Little People Basics – Printable Templates – PDF (English)
Regular price
$18.00
$0.00
including VAT.
Shipping
calculated at checkout.
A printable resource to practice sketching simple but characterful stick figures in different poses

I created this resource for everybody who wants to get better at drawing people and is looking for inspiration on how to practice this skill.
The main PDF contains 120 illustrations of friendly and expressive stick figures in different poses (standing, sitting, lying, walking running and jumping in different ways).
You can copy the postures for your personal practice or start creating your own variations, characters and stories. The download also contains a 10-page PDF with ideas for how to play with the little people and turn them into your own versions.
All 120 illustrations are available in two versions.
The first version is the full stick figure with a basic facial expression. Use this version as a template to practice by copying the poses and expressions.
The second version is a light-grey line drawing without any facial features. You can either simply trace the lines so your hand can gain more confidence in drawing the shapes or you can draw your own variation of the pose, adding more details and your own facial expressions on top of the underlying 'skeleton'.
For those you like sketching digitally, the grey line templates are also available as JPGs to easily import into the sketching tool of your choice (like Procreate, Adobe Draw or Affinity).
What's included?
Little People Basics – Templates (PDF)
120 Little People illustrations in different basic poses / actions: standing, walking, running, jumping, sitting & lying with different qualities.
Each illustration is available in two version:

Version 1:

 

black line drawing with basic face

Version 2:

 

grey line drawing without face to use a as base to draw your own variations



Little People Basics –
Importable templates for digital sketching (JPG)
The grey line drawings are also available as JPGs (10 sheets of 12 illustrations) that can be imported into digital drawing programs to use as templates to sketch your own variations on top.


Little People – How to play with the templates (PDF)
10-page PDF that explains how to practice with the templates and gives some inspirations for different variations to play with to create different expressions, characters and little stories.
Licenses
This printable is available under a personal license and a professional license.

If you just want to use the material just for your personal practice, you should get a personal license.
If you are a trainer, coach or facilitator and would like to use the material as practice material or handouts in your workshops, you should get a professional license.

For details about the different licenses and what you can and cannot do under each license, please view our Terms of Use.
If you are interested in using the illustrations (in their original version or as a re-drawn copy by you) for additional purposes, please get in touch to talk about a commercial license.
---

ZIP file, 13.1 MB

Ideal for viewing on your tablet, phone or desktop computer. 
PDFs are optimised for self-printing up to A4 format.
---
Von diesem PDF gibt es auch eine deutsche Version. 
Ce PDF est également disponible en français.
---
You might also like:
**NEW** Second edition of the Little People with 106 pairs of people interacting with each other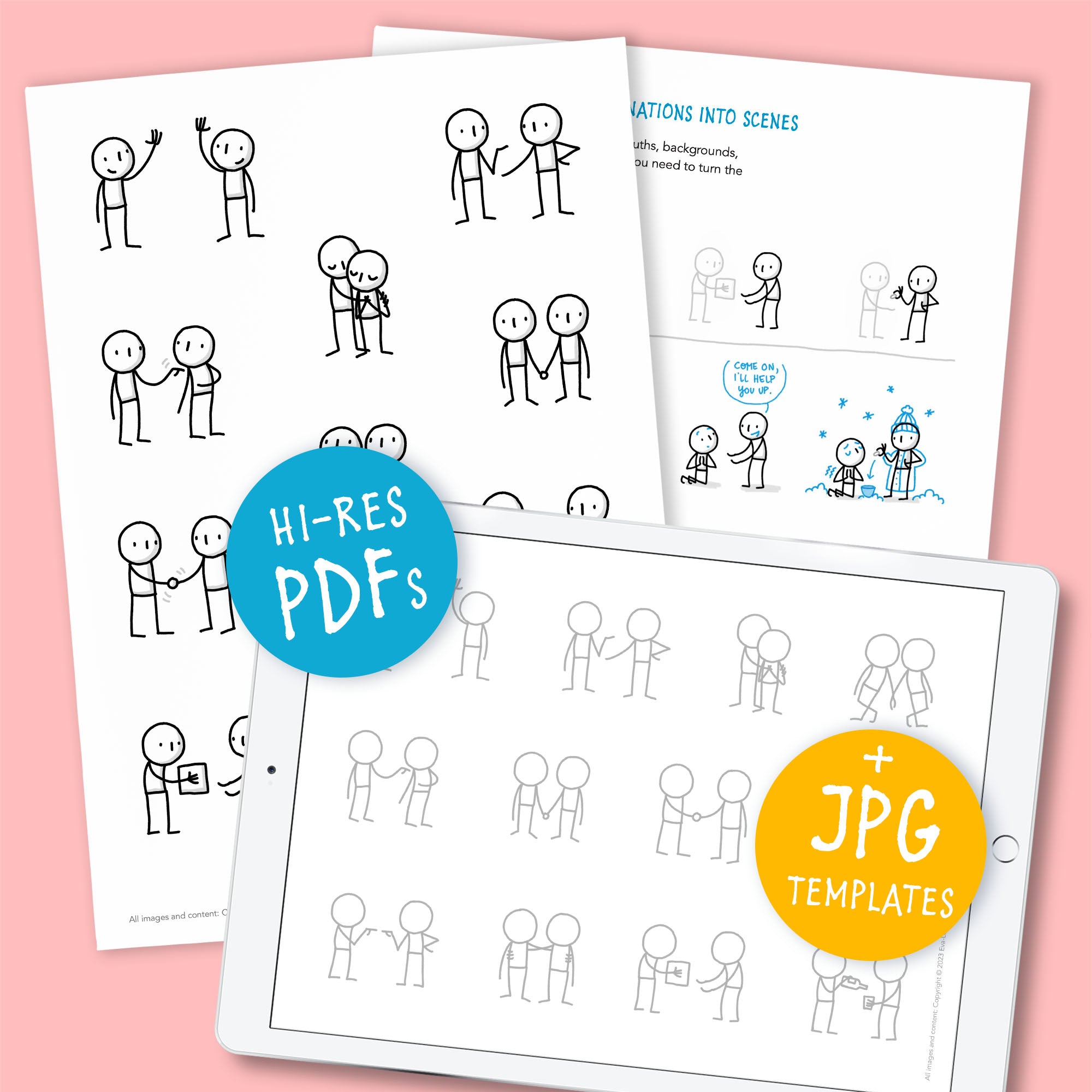 ---
You might also like